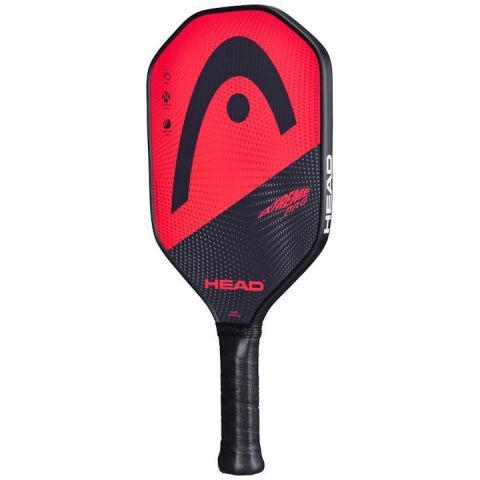 XTREME Pro (Pickle ball)
|
|
ART NO: 226519
MATERIALS: PP + GF
THICKNESS: 11.0 mm / 7/16 in
WEIGHT: 220 g / 7.8 oz
LENGTH: 408 mm / 16 in
WIDTH: 199 mm / 7 7/8 in
GRIP SIZE: 107 mm / 4 1/4 in
XTREME Pro

The Extreme Pro combines HEAD's latest technologies in a lighter weight paddle and a unique Diamond Shape for more control. It also incorporates a Comfort grip and a fiberglass hitting surface for increased power. At a slightly heavier weight than the Extreme Tour, the Pro offers increased power while still maintaining great control with each shot.
SPECS:
ART NO: 226519
MATERIALS: PP + GF
THICKNESS: 11.0 mm / 7/16 in
WEIGHT: 220 g / 7.8 oz
LENGTH: 408 mm / 16 in
WIDTH: 199 mm / 7 7/8 in
GRIP SIZE: 107 mm / 4 1/4 in
TECHNOLOGY:

HEAD engineers have optimized the Tubular Construction (OTC) of the polypropylene honeycomb core to create perfect playability, feel and sound suited for all levels of play.

HEAD's Extreme Spin Texture offers better bite on the ball for increased spin and control.

Specially formulated PU material has been inlaid into the new Ergo Grip creating a softer feel that dampens vibration for ultimate comfort and playability.