SPEED BLACK 2021 Racket limited
สปีดลิมิเต็ดดำล้วน มาใหม่!!
HOT!!! SPEED Racket limited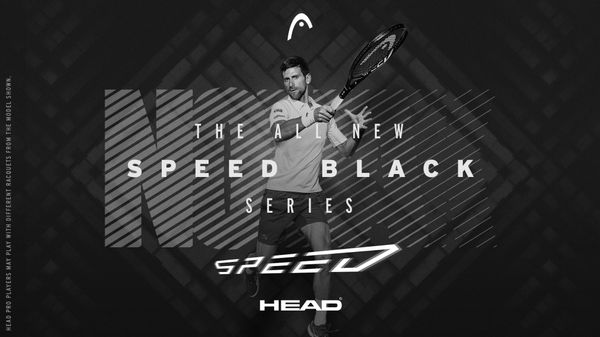 หลังจากเมื่อวางอันดับหนึ่งของโลก Novak Djokovic ได้ประสบความสำเร็จในปีที่ผ่านมา จึงอยากให้ HEAD ออกแบบไม้ใหม่ดำล้วนเพื่อความทรงจำของอีกปีที่ Novak ได้ประสบความสำเร็จ
Novak ถือว่าเป็นนักเทนนิสที่ประสบความสำเร็จมากที่ สุดคนหนึ่งของ HEAD จึงออกแบบใหม่นี้มาเผื่อ Novak โดยเฉพาะ และยังใช้เทคโนโลยีGraphene 360+ มาพร้อมสองรุ่นคือตัว
1) Speed Pro 2) Speed MP ในปี 2022 ทาง HEAD จะเปิดตัวเทคโนโลยีใหม่สำหรับ Speed
After his successful year 2020/21 Novak Djokovic approached HEAD with the desire to keep an all-black customized racquet for the reminder of the 2020/2021 season.
After a decade of astonishing accomplishments, making him HEAD's most successful athlete ever, HEAD has decided to accommodate Novak. We therefore decided to extend the existing Graphene 360+ SPEED Series, making a similar all-black edition available for two models. They will hit stores on January 21st, 2021 and will be additionally available until we launch a new technology Speed beginning of 2022.
1. GRAPHENE 360+ SPEED PRO (BLACK)
2. GRAPHENE 360+ SPEED MP (BLACK)
02 168 7833
แนนซี่: 096 702 7106 LINE ID : forheadsthailand
K. Thierry 083 816 7369 LINE ID: forheads
อีเมล: thuyet@forheads.vn
ที่อยู่: 10/178 อาคารเทรนดี้ ชั้น23, ห้อง 2301C, สุขุมวิท 13, คลองเตยเหนือ, กทม, 10110