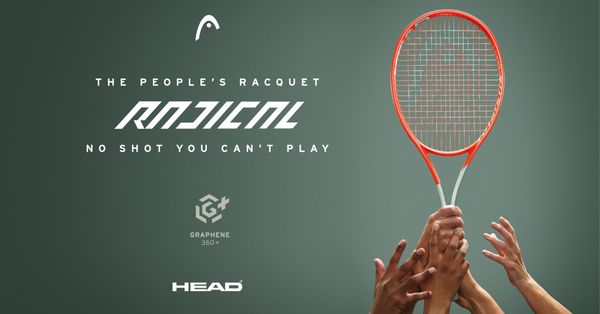 เปิดตัว HEAD Radical ซีรีใหม่ โฉมปี 2021
Kennelbach/Austria:
HEAD ได้เปิดตัว Radical โฉมใหม่ซึ่งได้นำเทคโนโลยีชั้นนำ Graphene 360+ เข้ามาใช้รวมถึง ได้มีการปรับเปลี่ยนรูปโฉมของไม้ มาเป็นโฉมใหม่
Radical เป็นไม้ที่เหมาะสมกับนักเทนนิส ที่มีสไตล์การตี All- court ซึ่งไม้ตัวใหม่นี้ ประสมประสานกันกับพาวเวอร์ สปิน และควบคุมการตีได้ง่ายขึ้น ซึ่งมาจากเทคโนโลยีใหม่ Graphene 360+ ทำให้นักเทนนิส ตีได้ง่ายขึ้นและออกแรงน้อยลง
Radical 2021 ซีรีนี้มีทั้งหมด 4 รุ่นย่อยดังต่อไปนี้
Pro, MP, S และ Lite ที่ นักเทนนิสสามารถเลือกได้
Forheads Thailand เป็นตัวแทนจำหน่าย อุปกรณ์กีฬา HEAD ของประเทศไทย
HEAD is upgrading its versatile RADICAL racquet series with a new frame construction, the introduction of advanced Graphene 360+ technology, and a fresh, vibrant and daring design.
Made for versatile, all-court players, the new RADICAL range supplies a perfect blend of power, control and spin, with the updated frame construction improving playability and performance. All the racquets in the series feature Graphene 360+ technology, a combination of Graphene 360's energy transfer and innovative spiralfibers which deliver enhanced flex and clean impact feel.
The bold new design illustrates the modernity, innovation and versatility of the new RADICAL racquet series, which includes four different frames - the PRO, MP, S and LITE - to suit a range of abilities.
Whether you are an intermediate club player or an advanced tournament player, there's no shot you can't play with the new RADICAL racquets, which will be available at selected retailers and online.
ต้องการข้อมูลเพิ่มเติม และราคาเกี่ยวกับสินค้า ติดต่อ
02 168 7833
แนนซี่: 096 702 7106 LINE ID : forheadsthailand
K. Thierry 083 816 7369 LINE ID: forheads
อีเมล: thuyet@forheads.vn
ที่อยู่: 10/178 อาคารเทรนดี้ ชั้น23, ห้อง 2301C, สุขุมวิท 13, คลองเตยเหนือ, กทม, 10110
ไม้เทนนิส, tennis racquet, HEAD tennis in Thailand